Facilitating Authenticity in Student Podcasts
Before any recording takes place, what systems should be in place for students to feel empowered to share their authentic voices with the world through podcasting?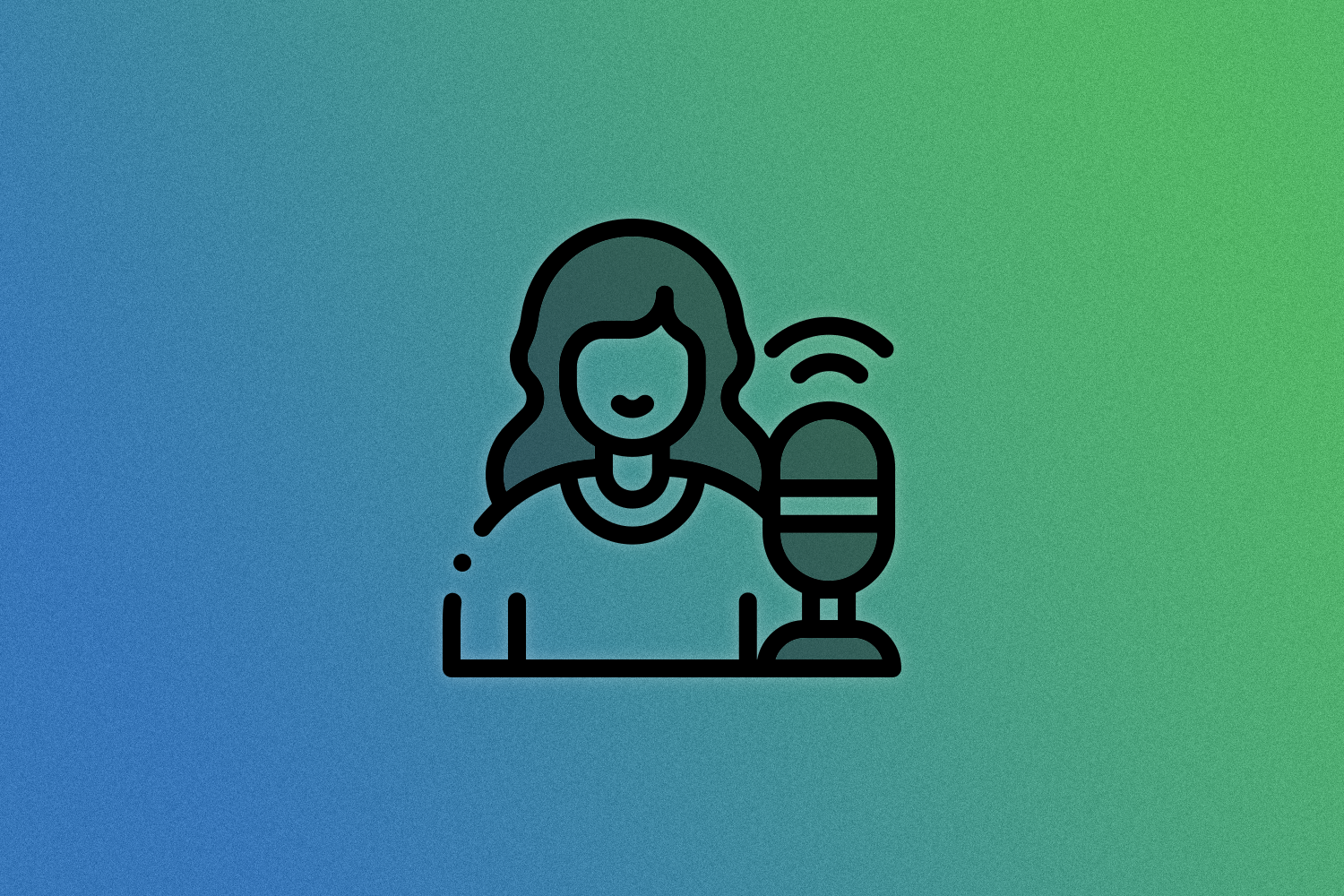 Microphones purchased: check. Digital audio interface acquired: check. Soundproofing board installed: check. You're all ready for your students to record and share their earth-shattering podcasts with the world, right? Not necessarily. There is no piece of hardware or software that can instantaneously allow learners to feel empowered enough to share their authentic selves with the world - that comes from an intentional process before the first microphone is plugged in.
---
Set & Setting
Most of the classroom podcasting that I facilitate takes place in Advanced Public Speaking class, which is a half-year course. Inherently, the class is somewhat pressed for time, particularly during the second half of the year when the senior student contingency is whisked off for graduation practice and end-of-year preparation. As tempting as it is to get everyone recording their products as soon as possible, the first few weeks are paramount for setting up an atmosphere of openness. All teachers know how important it is to set the culture in the classroom for the optimal learning experience, but when capturing and sharing the voices of students, an environment of mutual respect and support must be established.
We can't assume students will be willing to express their passions immediately. This doesn't necessarily mean personal, intimate stories - this even connects to sharing general preferences, such as a deep interest in comic books, cooking, equestrian, or 90s hip hop.
I usually begin with multiple low-stakes, non-recorded speaking and sharing activities including trivia games and roundtable opinion-based discussions. I hesitate to call these experiences "ice breakers" because they aren't merely designed to allow students to get to know one another; they also act as stepping stones to the later class activities. Students begin to hone the skills they will utilize when podcasting (mannerisms, tone, articulating ideas) while also recognizing that their ideas are being heard and acknowledged by their classmates.
A Shared Experience
Although podcasts can be produced individually, one of the largest appeals of these projects is the opportunity for collaboration. Of course, podcasts can have multiple hosts to share opinions, but beyond the microphone students can take roles as engineers and producers. Early on, students should recognize their classmates as potential partners to elevate their products and bring new knowledge to the table.
After establishing a basic rapport within the classroom, I give out a Google Form survey to students asking opinion-based questions, with the understanding that the results will be shared with the rest of the class. Questions range from more podcast-specific queries including show format and role preference to general interests that could guide topic selection.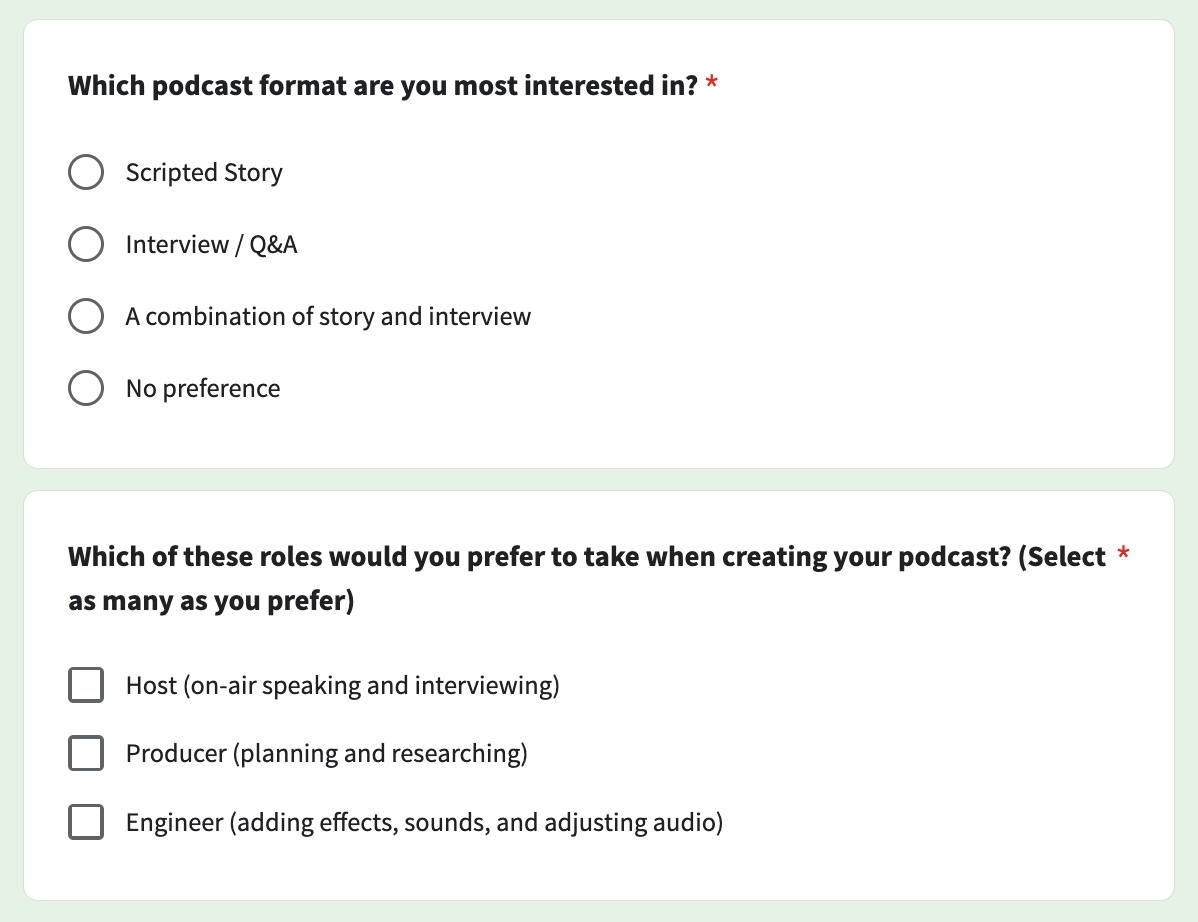 Once everyone submits the form, I compile the responses and allow the class to see which students chose similar, opposite, or complimentary responses to their own. I stress that there is value in both similar and different perspectives being included in a single podcast. Next, I allow students who chose similar show topics to come together and brainstorm more specific show purposes (entertain, persuade, inform).
Intentional Audience
An aspect of student podcasting that screams "authentic" is the potential to share recorded episodes with the whole world via the Internet. Granted that this is one of the most exciting aspects of podcast creation, don't jump right into blasting initial student products into the online ether. Allowing anyone access to podcasts can be daunting for students and cause understandable reluctance when recording. Instead, take a scaffolded approach to gradually expand the audience.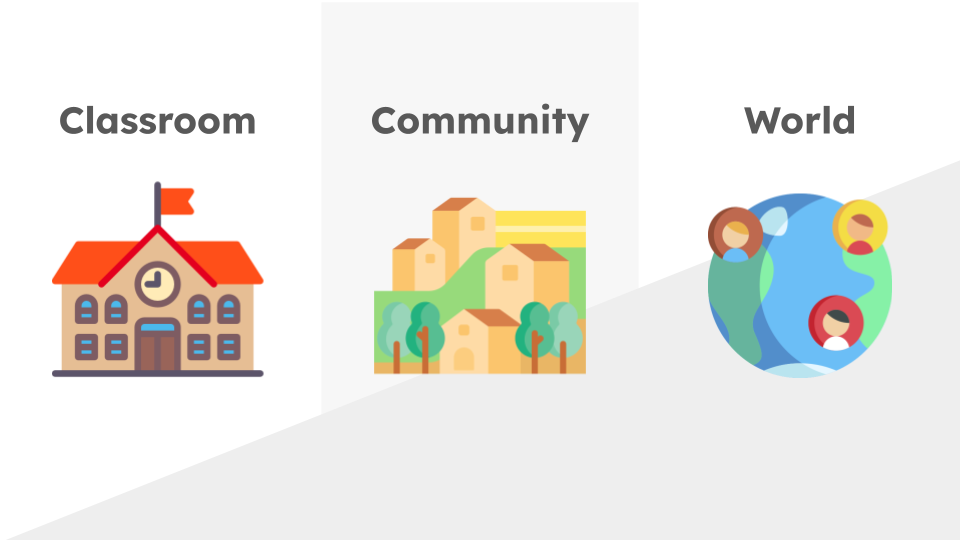 Start by limiting the podcast audience to the class itself. Once a positive environment is established, students should feel comfortable with their classmates hearing their products and providing feedback. Shows can be shared on a private Wakelet or domain-limited Google Site. After the first run, ask your students what they feel comfortable with next - do they want to share their second episodes with the whole school or town? They may want to hone their skills more within the classroom audience, which is fine as well. Every class is different; ask them what they prefer, but also stress that the purpose of podcasting is to share ideas with a varied audience.
💡
Online platforms such as
Anchor
allow students to share their creations with the world, but be sure to double-check your school's privacy policies. Anchor also requires a consent form for any users under 18 years of age.
---
A Strong Foundation
In short, creating a strong foundation on which your students build their audio shows is imperative for getting the most out of student podcasting. Before you begin, remember to:
Create an atmosphere of openness and understanding.
Open the channels for collaboration between students.
As a group, decide on your intended audience.
Happy podcasting!
For more resources and ideas for student podcasting, check out the Podcasting Power Resource Document which includes planning materials, tool recommendations, and more.
---
Further Listening